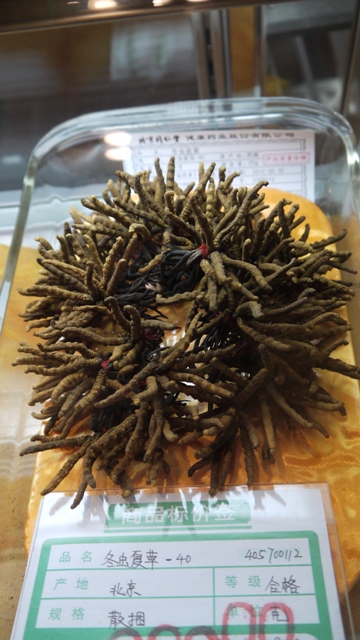 Day 1 in Beijing – Arriving, Tong Ren Tang, Caterpillar Fungus and Peking Duck!
Waking up in Amsterdam, we had breakfast at the hotel and headed out to the airport. With the time that we had, it wasn't really worth going into the city itself but also we did have some time to kill so it was figuring out what to do. We decided that we would explore the airport and spend our 10 Euro food vouchers! So, after a good few hour shopping, eating and generally walking around.. we finally got on the plane for our flight to China! Woop woop!
The journey was pretty uneventful and arriving in Beijing we expected to be greeted by our tour operator. The problem was that we had no idea who we were looking for..  we kinda expected them to have something with our names on. Unfortunately.. this was not the case! We walked around to get a good look of everyone hoping that they would see us but then we also realised that they don't have any pictures of us so how would they know who we were?
Anyway, the staff at the airport were very friendly and were able to call our tour guide who would wait for us at one of the gates.
The time right now just late morning and we knew that the tour had already started. We would join the tour and probably miss the first couple of items on the itinery.. we were famished and in desperate need of a shower. When we were in stuck in Amsterdam our luggage was already in the airport and our hand carry had no clothes.. we'd been in our stinky clothes for a couple of days!
It was an hour from the airport in the taxi to join the tour party. It was a bit confusing as my Mandarin is non-existant and the tour guide didn't explain anything! Shortly after reaching downtown Beijing, the taxi pulled over, our tour guide ushered us to get out of the vehicle but to leave our luggage as that would be taken onto the train. We were directed into a big building – we thought it was a restaurant initially but people were walking around in white coats!! This was Tong Ren Tang a Chinese pharmaceutical company which is the largest producer of traditional Chinese medicine.You can read more about them here: http://en.wikipedia.org/wiki/Tongrentang
We were ushered into a room where they were talking about Chinese medicine. The problem was that it was all in Mandarin and we had no idea what was being talked about! Hmm… not a good start. We looked around us and saw that this must be our tour party.. they were all a bit older than us.. well, it looked like they were mostly retired people in their 60s! Actually, because it was all in Mandarin we weren't even sure if we were in the right place but didn't know if we should leave the room and find out. Luckily it soon finished, it's amazing how tired and bored you feel when people speak a language you don't understand.. we actually started to get irritable and annoyed as we had paid good money for this trip and being in a talk where you don't understand isn't what you would expect.
After the talk is when we got to meet the rest of the tour party and it turned out that they all spoke English! We were in the correct place. Most people were older, Chinese American from LA and of Taiwanese origin. There was a couple from Australia and a lady from the US. There were 3 others who were roughly our age and the two sisters Debbie and Catherine had come with their parents. Wellington was Debbies boyfriend.
The one thing interesting about the pharmaceuticals factory was the half caterpillar half plant thing..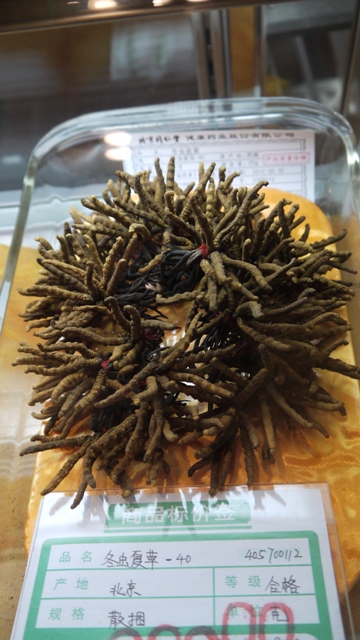 Ok, just looked online.. it's called caterpillar fungus and is a result of a parasitic relationship between the fungus and the caterpillar which kills and mummifies the caterpillar! It is medicinal and used as an aphrodisiac and to combat fatigue and cancer! They also cost a fortune and are still going up in price! The lowest quality a few years back cost US $3000 per kilo and the best quality US $18000 per kilo! WOW! To read more, the Wiki entry is here: http://en.wikipedia.org/wiki/Ophiocordyceps_sinensis
Our next stop was to eat Peking Duck at some famed restaurant. Peking duck is famous here so we really expected a lot from this… sadly, I have to say that it was better in London!