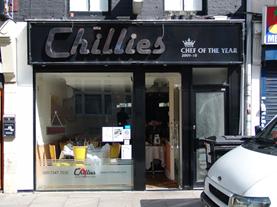 The Brick Lane Curry House Rip Offs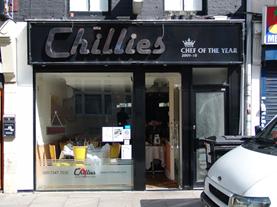 Yesterday I met up with a friend I've not caught up with in a while. Our thing is usually a good old curry in London's Brick Lane.. the home of the curry. For those who don't know, Brick Lane is famous for the many curry houses.. in fact, there are so many that it's rather hard to choose. You can look at all the award stickers they stick by the door or look through the windows to see if there are any other punters inside. However, usually, you will get touts coming up and offering discounts. These are usually a percentage off the bill or the first round of drinks for free.
So we walked past a few and saw one where there were at least 3 tables of people. The guy also offered us a 25% discount off the food bill.. nice!
So that was it, we went to one called Chillies and the first thing they offer is Poppodoms and their chutneys. A mixed grill to share for starters, then a Lamb Rogan Ghosh, Chicken Tikka (x2), a Peshwari nan, normal nan, plain rice and pilau rice. For drinks, we had a total of 3 diet cokes.
The food was good, we can't say that was poor but it was so expensive and poor value. When the mixed grill came out, we both looked at each other and laughed..  it consisted of 3 bits of meat, grilled chicken piece which was 1cm by 3cm in size, a kebab roll – 1 cm by 4cm and a small lump of grilled lamb which was about 2cm by 2cm. All this for £5.
I couldn't believe the final bill (including the discount) came up to £52 for us both. Where they got us was the poppodoms and the chutneys..  they charged something like £1.50 for each poppodom and then for the chutneys, £4 or £5. Also, with the Chicken Tikka dish being so small, we were hungry and had to order another plate.
I just wanted to post this up so that people are careful and aware of what could happen when you visit these curry houses. We should have read the reviews online prior to randomly choosing a curry house so I hope this article helps people from being ripped off at some of these curry places. I'm not saying of course that all of the curry houses are like this but it'll be good to keep tabs on each one.
The next time I visit Brick Lane, we're going to go to one called Tayyabs.. this one I've been to a few times and the food is great and good value also. The only downside is that everyone else thinks so too and there is often a large queue waiting to eat at this one!