Vietnamese Restaurants on Kingsland Road
There's this particular Vietnamese restaurant we visit every time we're in the Old Street area called Loong Kee Cafe.. it's a great little place to eat and a real hidden gem. Although aesthetically, it's nothing great to look at, the restaurant (or cafe as it's called) is pretty basic with cheap quality laminate curling at the edges. However, the food is just awesome and great value.. we love the place and make a bee line for that place.
For those familiar with that area, you'll note that there are about 6 Vietnamese restaurants on that road all within a few minutes walk of each other…  Loong Kee is the only one we go to.
However, we were pretty disappointed to see that it was closed today…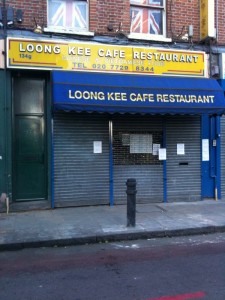 They are undergoing some refurbishment.. not that I mind it the way it looked..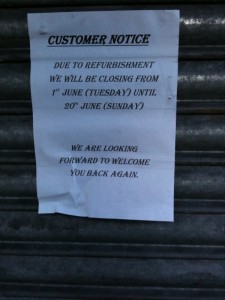 Anyway, since we were in the mood for Vietnamese food, we wandered around to look for another and we found this one.. Tay Do Cafe. It looked rather nice, decor was clean and there were people inside (we never go to restaurants if we don't see other people). It smelt great too…  could this be a competitor to Loong Kee?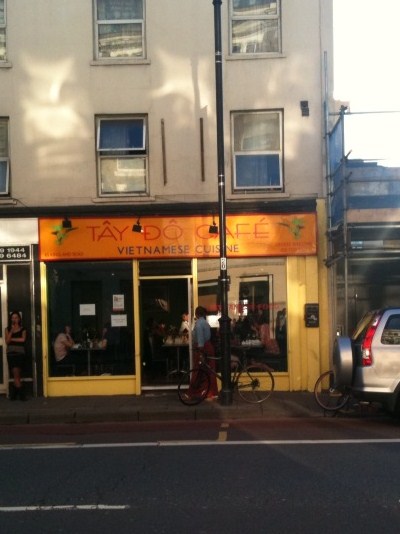 We always order soft shell crab so that was the first test – Loong Kees one is fantastic, always fresh and we love the onions and the salad which comes with it.
Tay Do's soft shell crab had 3 pieces of crab as opposed to Loong Kees 4 pieces. They had a little too much batter for my liking and the salad just didn't seem that fresh. It's hard to go wrong with soft shell crab so I did enjoy it still.. however, it was both pricier than Loong Kees and less tasty.. presentation wise also wasn't as good.
The mains, I went for the prawn salad and Metok, the vermicelli and pork. I didn't like the food at all… the prawns were a little raw and I had to ask them to cook them a little more..  also for £7.50 you get a few prawns and some lettuce (which were yellowing). The vermicelli had huge clumps stuck together and just seemed as though it wasn't fresh. Our meal cost us £30…. ok, not expensive but for a better meal at Loong Kee, you would be paying less.
I'll wait until Loong Kee opens again before I go for any more Vietnamese food…