Go Car in Barcelona
We spent a few days in Barcelona and the first day we booked ourselves a little yellow car called Go Car. It's a converted 50cc converted moped on 3 wheels and it was the best fun we had!
You can get it for a whole day and it's like having your own convertible as you drive around Barcelona city. The two great things about the Go Car..  firstly, it is your personal tour guide with built in GPS. As you're driving, through it's speakers it tells you where to turn and as it knows where you are via the GPS, it will give you a little information on the areas/attractions that you drive past. The second great thing is that it is classified as a moped and means you can park it for free at the numerous moped bays you find in the city for free! So as you follow the tour and decide that you want a closer look, find a parking space and then then you can explore on foot!
There are two tours which you can follow.. the red tour or the blue tour, see the map below: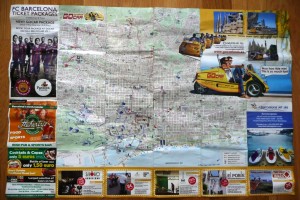 (click to see it larger – sorry it's a bit crumpled!)
The red tour takes you through the city outskirts where you drive past the famous Sangrada Familia. It goes past Park Guell and up to the funicular at the top of a hill (where the poor Go Car struggles a bit!!). On the way back, you go past Barcelona FC stadium.
The blue tour takes you through the city where you see everything else – see map for details.
It is absolutely great fun and we had the car for 8 hours and used almost a full tank of fuel! That's all included in the price so it's brilliant. In the 8 hours we managed to do the whole of Barcelona, whilst taking the time to park the car and stroll around too.
You do get a lot of funny looks from people and quite a few other tourists took out their cameras and took snaps of us!
Anyway, here are some of our pictures:
Picking up the Go Car at the depot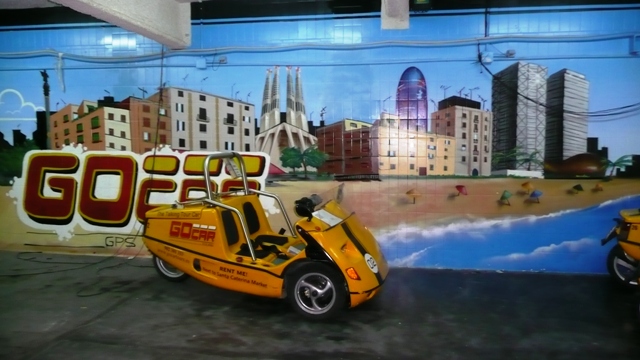 Parking the Go Car in a moped bay (it takes up two bays but it's completely free!)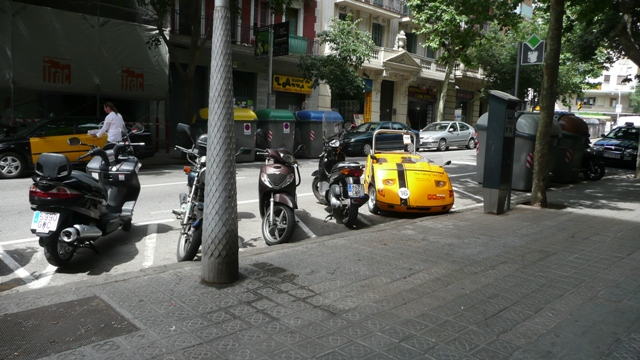 Me posing the the Go Car at the Funicular – the dents on the front aren't by me (honest!)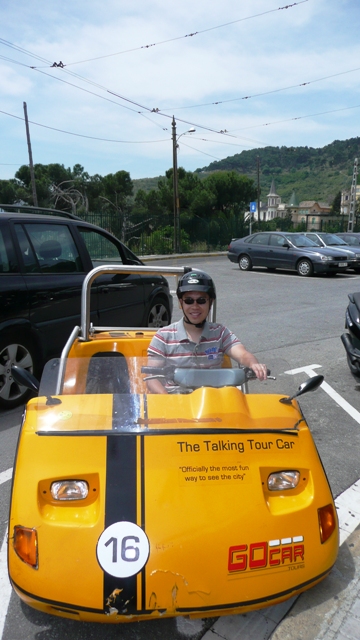 If you're in Barcelona, I highly recommend it! It's a novel way to see the City and beats the open top buses which are so old school! I'm glad to see that Go Car is also available in some other cities which we're thinking of visiting namely San Francisco and Lisbon!
Oh, if you're looking for their details in Barcelona, the website is www.gocartours.es
Have fun!